The optimized screw geometry offer the better possible processing of engineering plastics with high disposibility and good homogenous products mix.

Co-rotating - intermeshing
Dispersion by kneading
Helical path mixing
Reverse Element
Left and Blister action
Control Panel
In all our extruders AC Inverters with good PID controllers. SSR Controled CSATING Headers and Barrel Cooling by AIR & Water or Stream.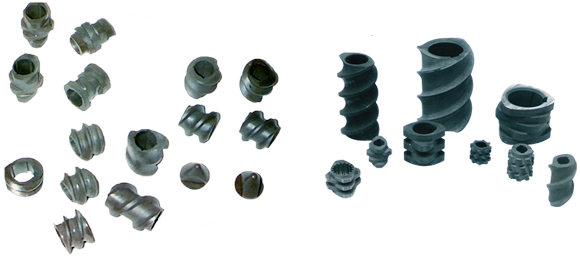 We also supply spares for Screw Element and Barrels for Twin Screw Extruder
SEGEMENTED SINGLE SCREW EXTRUDER WITH VENT AND SIDE FEEDER
Capable of processing any engineering plastics material with fillers. While processing by the vent using vacuum device it can remove volatile gases by the process of de-gasing, so the output material will be produced desired quality level.
OUR PRODUCT LINE
Twin Screw Extruder ( Model:FUE)
Segmented single Screw extruder(Model: FKE)
Side Feeder( Twin Screw)
Vertical Feeder
Air Knife
Pelletizer
Vaccum Degassing System
Liquid Injection System
Volumetric Feeder ( Single & Twin Type)
Loss-in-Weight Feeder ( Single & Twin Type)
Spare Screw Elements and Barrels
Hydraulic Screen Changer